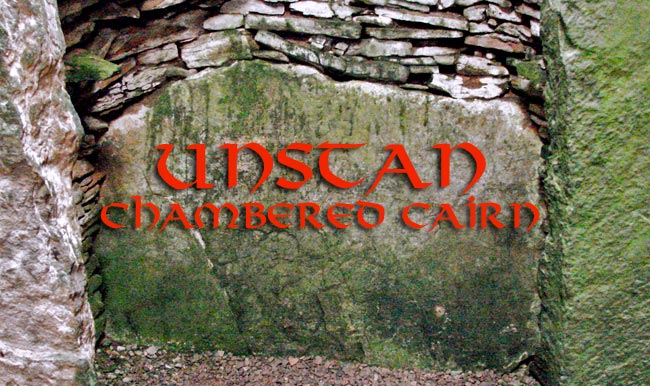 The tomb is located near the top of a low hill overlooking a good sized tract of arable land by the shore of The tomb sits on a low promontory on the south shore of the Loch of Stenness and was excavated in 1884. The cairn is roughly circular in plan and about 13 metres in diameter. The external wall-face survives to a height of about one metre and there is a second wall-face about one metre inside it. The foundation for a short wall stub projects from the cairn just north of the entrance and there is another on the northwest side.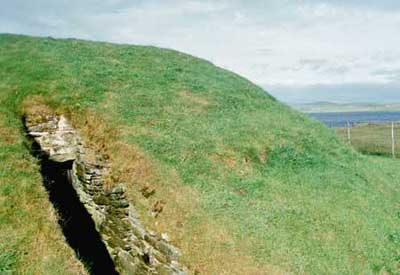 Unstan. Tomb Entrance
The entrance passage is 6.5 metres long and runs perpendicular to the burial chamber, to the east-northeast. The chamber is 6.6 metres long and 1.9 metres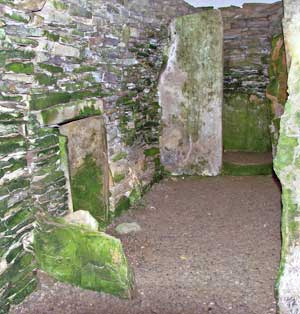 wide in the centre with somewhat concave walls a little over two metres high. It is divided into five compartments with a narrow aisle running down the centre. There are back slabs in each of the end compartments, which are further distinguished by stone sills across the entrance. In each of them there are projecting stones about 1.2 metres above the floor that probably supported shelves. At about the mid point of the west wall of the chamber is the entrance to a side cell (right) measuring 1 metre wide, 1.45 metres deep and 1.2 metres high.
According to the original excavators, the floor of the chamber was covered by a layer of black ashy material containing charcoal. A lot of pottery was found in the black layer—especially in the second compartment from the south—along with some flint. According to the original report, there was a considerable amount of human and animal bone throughout the chamber and a number of crouched burials were found lying on the black layer along with two in the side cell.