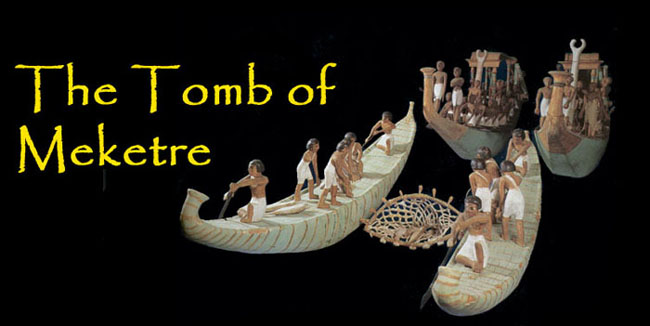 The tomb of Meketre belonged to Mentuhotep's chancellor and was located in cliffs above that of his master. It was of the rock-cut type common to the period with a steep approach ramp leading to a monumental entrance and a long passage. The tomb had been plundered a number of times over the course of the centuries and the painted decoration of the interior was deliberately vandalized but one small chamber escaped notice until 1919 when it was discovered by Herbert Winlock. It contained twenty-five wooden models depicting all sorts of aspects of the life of Meketre. There are model houses along with granaries and cattle sheds so Meketre would be well-provided with shelter and food. The latter was prepared in model breweries, bakeries and butcher shops. There were also workshops where carpenters and weavers provided a permanent supply of manufactured goods. Meketre evidently owned a number of boats—including fishing boats, skiffs formal barges and even a kitchen boat. He would need all of these in the Afterlife, especially to make the pilgrimage to Abydos.
| | |
| --- | --- |
| Model Weaver's Shop | Model Carpenter's Shop |
One elaborate scene depicts Meketre overseeing a 'Cattle Count' which takes place in the courtyard of a country house and shows herdsmen driving piebald cattle past a portico with lotiform columns. Meketre sits there with his son and four scribes while the chief herdsman presents his report. A number of guards with sticks stand by—in case there's a problem with the reckoning.