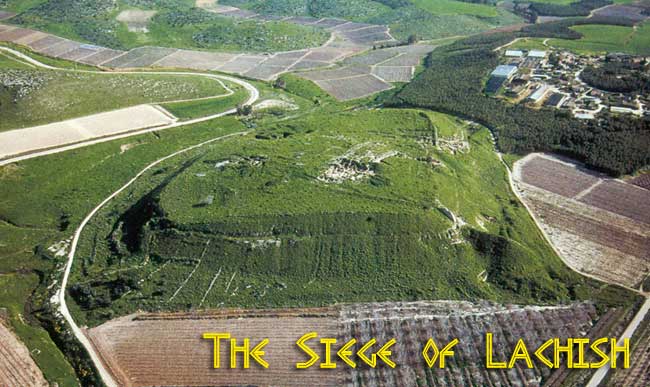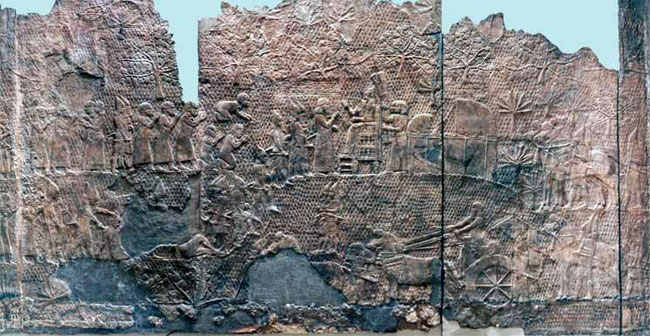 Slabs 11 & 12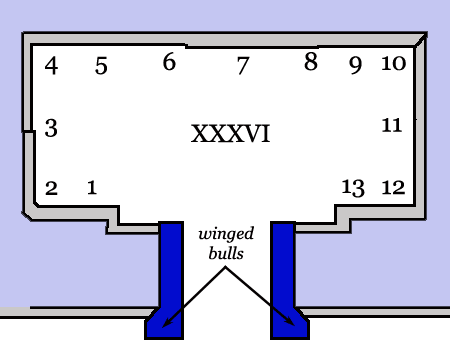 Unlike earlier kings, who liked to have themselves shown prominently in the events leading up to the ultimate victory, Sennacherib is rather shy about appearing in any of the artwork of his reign. He only shows up once in this particular composition—and not in a particularly heroic role. He is shown, not charging the enemy in his chariot with bow and lance nor leading the assault on the city walls. Instead he sits on his throne, flanked by servants to whisk away the flies, receiving the report of his general (turtanu).
Above the general's head is an epigram that reads:
Sennacherib, king of the universe, king of Assyria sat upon a house chair (while) the booty of Lachish passed before him.
(Luckenbill, II:489)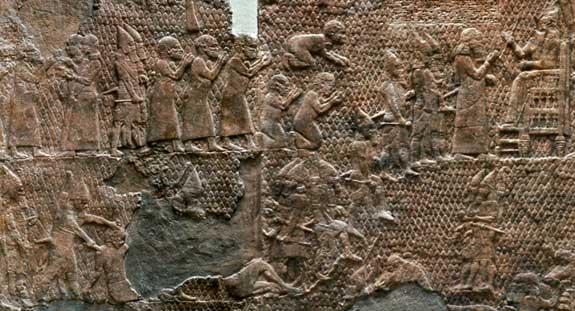 Behind the general is a delegation of the town's leading citizens who have their hands raised in front of their faces in an attitude of submission. Some of them have thrown themselves to the ground in front of the royal throne, begging for mercy. Mercy is something they will sorely need because right next to them several of their compatriots are shown having their throats slit.
Behind the king was a pavilion, a framework of poles that was probably hung with either leather or sheepskin or cloth, depending on the circumstances and local availability. The standard version (shown opposite right) was a rather open affair, surrounded by a curtain wall for privacy's sake to be sure, but partially open to the sky. Presumably the whole thing could have been covered by a single canopy if necessary but, in this case, it has been arranged with smaller ones to provide some shade but to allow for plenty of fresh air. Watching people being killed or begging for their lives can be exhausting. At the foot of the hill his driver is steading the horses that pull the royal chariot and ranged to the rear of them is the king's cavalry escort, the riders dismounted and holding the reigns of their horses.